Club Show in Burgdorf
21. August 2016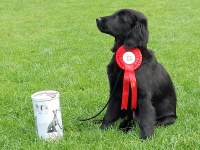 Kaylah Burgdorf
Kaylah hat sich heute an der Club Show in Burgdorf super präsentiert und einen tollen Richterbericht erhalten. Der ganze Rummel mit all den vielen Hunden und noch mehr Menschen, dazu noch Musik, sonstigen Lärm und Lautsprecher-ansagen liess sie cool und gelassen bleiben. Sie beobachtete alles intensiv und liess sich überhaupt nicht aus der Ruhe bringen.
Richterbericht von Bertil Lundgren:
16 weeks, very good proportions, feminin well shaped head, kind expression, good reach of neck, enough angulation, well bodied, nice topline, sound mover, good bone and feet, puppy coat.
Babyklasse: vielversprechend