After Show Party!
27. August 2017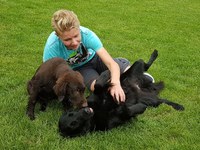 Auch Kaylah hat sich tapfer geschlagen zum ersten Mal in der Jugendklasse!
Hier ihr Richterbericht:
"Feminine headed female with good shaped eye. Adequate length of neck with good lay of shoulder. Level topline, well ribbed and short in loin. Adequate rear angulation. Moved out steady and true. Would prefer much darker eye." Exc
Nach der Anspannung im Ring fanden sowohl Ruby, wie auch Kaylah und Jerome Entspannung pur etwas abseits des Rummels!